{"id":5970240340149,"title":"KILLABEE Massage Gaming Chair 9015 Pink","handle":"killabee-massage-gaming-chair-9015-pink-2020-new","description":"\u003cp\u003e\u003cspan style=\"color: #000000;\"\u003eKILLABEE 9015 series pink and white computer gaming chair with footrest and massage support. It is designed for girl gamers with superior functional comfort as it features a multitude of adjusting systems and comfy seating, allowing you to sit both ergonomically and comfortably even in long periods of a game session or working. The massaging function activates in the lumbar cushion assist to reduce or bump off the discomfort. Padded armrests offer considerable support to the upper torso, neck, and shoulders which helps relieve fatigue and reduces the stress on shoulder and neck muscles.\u003c\/span\u003e\u003c\/p\u003e\n\u003chr\u003e\n\u003cdiv\u003e\u003cspan style=\"color: #38761d;\"\u003e\u003ci class=\"fa fa-check-circle\"\u003e\u003c\/i\u003e Adjustable Massage Lumbar Pillow\u003c\/span\u003e\u003c\/div\u003e\n\u003cdiv\u003e\u003cspan style=\"color: #38761d;\"\u003e\u003ci class=\"fa fa-check-circle\"\u003e\u003c\/i\u003e 160 Degree Reclining Control with infinite angle lock.\u003c\/span\u003e\u003c\/div\u003e\n\u003cdiv\u003e\u003cspan style=\"color: #38761d;\"\u003e\u003ci class=\"fa fa-check-circle\"\u003e\u003c\/i\u003e Extendable Padded Footrest\u003c\/span\u003e\u003c\/div\u003e\n\u003cdiv\u003e\u003cspan style=\"color: #38761d;\"\u003e\u003ci class=\"fa fa-check-circle\"\u003e\u003c\/i\u003e Nylon Base with Smooth-rolling Castors\u003c\/span\u003e\u003c\/div\u003e\n\u003cdiv\u003e\u003cspan style=\"color: #38761d;\"\u003e\u003ci class=\"fa fa-check-circle\"\u003e\u003c\/i\u003e Soft Flat Seat Cushion\u003c\/span\u003e\u003c\/div\u003e\n\u003cdiv\u003e\u003cspan style=\"color: #38761d;\"\u003e\u003ci class=\"fa fa-check-circle\"\u003e\u003c\/i\u003e Recommended Height: 5'6\" - 5'9\" \/ 167-175cm\u003c\/span\u003e\u003c\/div\u003e\n\u003cdiv\u003e\u003cspan style=\"color: #38761d;\"\u003e\u003ci class=\"fa fa-check-circle\"\u003e\u003c\/i\u003e Weight Capacity: 250lbs \/ 113kg\u003c\/span\u003e\u003c\/div\u003e\n[TABS]\n\u003ch5\u003e\u003cspan style=\"color: #000000;\"\u003eFEATURES\u003c\/span\u003e\u003c\/h5\u003e\n\u003cdiv style=\"text-align: center;\"\u003e\u003cimg src=\"https:\/\/cdn.shopifycdn.net\/s\/files\/1\/2737\/7264\/files\/KILLABEE_PINK_COMPUTER_GAMING_CHAIR_WITH_FOOTREST_AND_MASSAGE_LUMABR_SUPPORT_9015_SERIES_2.jpg?v=1607567522\" alt=\"\"\u003e\u003c\/div\u003e\n\u003cp\u003e\u003cspan style=\"color: #000000;\"\u003eThe KILLABEE 9015 Series racing style gaming chair capable of providing support and comfort for any user. Thanks to its multiple adjusting features, anyone can adjust it according to their figure, activity, and needs.\u003c\/span\u003e\u003c\/p\u003e\n\u003cp\u003e\u003cspan style=\"color: #000000;\"\u003eAvailable in Gray \u0026amp; Black, Black, Red \u0026amp; Black, Blue \u0026amp; Black, \u003cstrong\u003ewe release the Pink \u0026amp; White KILLABEE 9015 series gaming chair in fall 2020.\u003c\/strong\u003e\u003c\/span\u003e\u003c\/p\u003e\n\u003cp\u003e\u003cspan style=\"color: #000000;\"\u003eLet's see what makes the KILLABEE 9015 one of the best value for money on the market of ergonomic gaming chairs.\u003c\/span\u003e\u003c\/p\u003e\n\u003cp\u003e\u003cspan style=\"color: #000000;\"\u003e\u003cstrong\u003eDesign\u003c\/strong\u003e\u003c\/span\u003e\u003c\/p\u003e\n\u003cp\u003e\u003cspan style=\"color: #000000;\"\u003eThe KILLABEE 9015 is an elegant racing style gaming chair. It features mainly black upholstery with a colored finish available in red, blue, gray, or black. The NEW 9015 pink and white gaming chair comes out this fall. The style is suitable for gaming rooms or contemporary designed offices. \u003c\/span\u003e\u003c\/p\u003e\n\u003ch4\u003e\u003cspan style=\"color: #000000;\"\u003eSeat Cushion\u003c\/span\u003e\u003c\/h4\u003e\n\u003cp\u003e\u003cspan style=\"color: #000000;\"\u003eThis chair features a wide seat cushion (21.3'' x 20.1'' x 4.7'') that provides room enough for a comfortable sitting position. Made from a high-density sponge, the cushion is highly resistant and able of providing strong and durable support while also being soft and extremely comfortable.\u003c\/span\u003e\u003c\/p\u003e\n\u003ch4\u003e\u003cspan style=\"color: #000000;\"\u003eBackrest\u003c\/span\u003e\u003c\/h4\u003e\n\u003cp\u003e\u003cspan style=\"color: #000000;\"\u003eThe KILLABEE 9015 features an ergonomic 31.9'' backrest that provides support for the entire length of the back (from low back up to the neck).\u003c\/span\u003e\u003cbr\u003e\u003cspan style=\"color: #000000;\"\u003eThe backrest is also reclinable up to 160° so that the chair can be suitable for multiple activities. You can leave the backrest straight, at 90°, to work at your desk for hours while receiving proper support; you can slightly incline it to read or consult data on a tablet in a more comfortable position; and you can fully recline it and rest for as much as you want, while also resting your feet on the footrest.\u003c\/span\u003e\u003c\/p\u003e\n\u003ch4\u003e\u003cspan style=\"color: #000000;\"\u003eFootrest\u003c\/span\u003e\u003c\/h4\u003e\n\u003cp\u003e\u003cspan style=\"color: #000000;\"\u003eThe retractable footrest is ideal for a chair with a reclinable backrest. It's thanks to it that you can rest on your chair as it was a comfortable armchair. Support is provided during rest just like it's provided during work.\u003c\/span\u003e\u003c\/p\u003e\n\u003ch4\u003e\u003cspan style=\"color: #000000;\"\u003eArmrest\u003c\/span\u003e\u003c\/h4\u003e\n\u003cp\u003e\u003cspan style=\"color: #000000;\"\u003eThe KILLABEE 9015 features padded armrests which are also adjustable. This makes the gaming chair suitable for people of different heights (ideal for people 5'6''-5'-9'' tall) who can adjust the armrest position to their needs and comfort.\u003c\/span\u003e\u003c\/p\u003e\n\u003ch4\u003e\u003cspan style=\"color: #000000;\"\u003eLumbar Support\u003c\/span\u003e\u003c\/h4\u003e\n\u003cp\u003e\u003cspan style=\"color: #000000;\"\u003eThe KILLABEE 9015 is provided with a massage lumbar cushion. Other than being able to give you the pleasure of a massage, a lumbar cushion is extremely important for maintaining a proper posture while sitting. Especially if you sit for many hours during the day, you need your spine to maintain its natural position and curves. This is only possible with a lumbar cushion.\u003c\/span\u003e\u003c\/p\u003e\n\u003ch4\u003e\u003cspan style=\"color: #000000;\"\u003eSmoothly Castor\u003c\/span\u003e\u003c\/h4\u003e\n\u003cp\u003e\u003cspan style=\"color: #000000;\"\u003eIf you're tired of noisy and stiff castors, with the KILLABEE 9015 you can definitely fix the problem. Its castors are 360° rotating, smooth and silent during shifting.\u003c\/span\u003e\u003c\/p\u003e\n\u003ch2\u003e\u003cspan style=\"color: #000000;\"\u003ePrice and Guarantee Scheme\u003c\/span\u003e\u003c\/h2\u003e\n\u003cp\u003e\u003cspan style=\"color: #000000;\"\u003eYou won't find such a quality gaming chair at such an affordable price anywhere else in the market. Also, the chair comes with a 1-year warranty as insurance of quality and durability.\u003c\/span\u003e\u003c\/p\u003e\n\u003ch5\u003e\u003cspan style=\"color: #000000;\"\u003e\u003cstrong\u003eSPECIFICATIONS\u003c\/strong\u003e\u003c\/span\u003e\u003c\/h5\u003e\n\u003cdiv style=\"text-align: center;\"\u003e\u003cimg src=\"https:\/\/cdn.shopify.com\/s\/files\/1\/2737\/7264\/files\/KILLABEE_PINK_MASSAGE_GAMING_CHAIR_FOR_GIRL_GAMERS_9015_SERIES_1.jpg?v=1606199117\" alt=\"KILLABEE MASSAGE GAMING CHAIR 9015 SERIES PINK GAMING CHAIR FOR GIRL GAMERS\" style=\"float: none;\"\u003e\u003c\/div\u003e\n\u003cul\u003e\n\u003cli\u003e\u003cspan style=\"color: #000000;\"\u003eDimensions: 26'' x 19.3'' (maximum height)\u003c\/span\u003e\u003c\/li\u003e\n\u003cli\u003e\u003cspan style=\"color: #000000;\"\u003eWeight: 49.6 lbs\u003c\/span\u003e\u003c\/li\u003e\n\u003cli\u003e\u003cspan style=\"color: #000000;\"\u003eFrame Construction: Steel\u003c\/span\u003e\u003c\/li\u003e\n\u003cli\u003e\u003cspan style=\"color: #000000;\"\u003eFoam type_ high-density sponge\u003c\/span\u003e\u003c\/li\u003e\n\u003cli\u003e\u003cspan style=\"color: #000000;\"\u003eAdjustable armrest: yes\u003c\/span\u003e\u003c\/li\u003e\n\u003cli\u003e\u003cspan style=\"color: #000000;\"\u003eRetractable footrest: yes\u003c\/span\u003e\u003c\/li\u003e\n\u003cli\u003e\u003cspan style=\"color: #000000;\"\u003eAdjustable height: yes\u003c\/span\u003e\u003c\/li\u003e\n\u003cli\u003e\u003cspan style=\"color: #000000;\"\u003eTilt lock: yes\u003c\/span\u003e\u003c\/li\u003e\n\u003cli\u003e\u003cspan style=\"color: #000000;\"\u003eRecline: up to 175°\u003c\/span\u003e\u003c\/li\u003e\n\u003cli\u003e\u003cspan style=\"color: #000000;\"\u003eMaximum Load: 250 lbs\u003c\/span\u003e\u003c\/li\u003e\n\u003cli\u003e\u003cspan style=\"color: #000000;\"\u003eRecommended Height: 5'6'' - 5'9''\u003c\/span\u003e\u003c\/li\u003e\n\u003c\/ul\u003e\n\u003cdiv style=\"text-align: center;\"\u003e\u003cbr\u003e\u003c\/div\u003e\n\u003chr\u003e\n\u003ch5\u003e\u003cspan style=\"color: #000000;\"\u003eSHIPPING\u003c\/span\u003e\u003c\/h5\u003e\n\u003ch4\u003e5-7 DAYS FREE US SHIPPING.\u003c\/h4\u003e\n\u003cp\u003e\u003cspan style=\"color: #000000;\"\u003eFor more information about shipping, please refer to the \u003cstrong\u003e\u003ca title=\"shipping-policy-killabee-gaming-chair\" href=\"https:\/\/www.killabee-gaming.com\/pages\/shipping-policy\" target=\"_blank\"\u003eSHIPPING POLICY\u003c\/a\u003e\u003c\/strong\u003e page. \u003c\/span\u003e\u003c\/p\u003e\n\u003chr\u003e\n\u003ch4\u003eHow Do I Know If A KILLABEE Gaming Chair Will Be A Good Fit For Me?\u003c\/h4\u003e\n\u003cp\u003e\u003cspan style=\"color: #000000;\"\u003eWe've designed our chairs to be as adjustable as possible, taking into consideration that people have varying weights and height. We do have a recommended using our chair measurement guide base on your height and weight here with our \u003cstrong\u003e\u003ca href=\"https:\/\/www.killabee-gaming.com\/pages\/size-guide\" title=\"killabee-gaming-chair-size-guide\" target=\"_blank\"\u003eSIZE GUIDE\u003c\/a\u003e\u003c\/strong\u003e to get a better idea of which chairs suit you best.\u003c\/span\u003e\u003c\/p\u003e\n\u003cp\u003e\u003cspan style=\"color: #000000;\"\u003eWe also suggest comparing these measurements against your current chair, to give you a better idea of which chair would fit you best.\u003c\/span\u003e\u003c\/p\u003e\n\u003ch4\u003eHow Do I Assemble My KILLABEE Gaming Chair?\u003c\/h4\u003e\n\u003cp\u003e\u003cspan style=\"color: #000000;\"\u003eUpon purchase \u0026amp; fulfillment, you can find the assembly video and assembly guide in the \u003cstrong\u003e\u003ca href=\"https:\/\/www.killabee-gaming.com\/pages\/instruction-manual\" title=\"killabee-gaming-chair-instruction-manual\" target=\"_blank\"\u003eINSTRUCTION MANUAL\u003c\/a\u003e\u003c\/strong\u003e.\u003c\/span\u003e\u003c\/p\u003e\n\u003cp\u003e\u003cspan style=\"color: #000000;\"\u003eThe assembly video and guide will give you a good step-by-step visual walkthrough, as well as some important safety information to keep in mind. So watch it through at least once before starting and you'll find it much easier. An average person takes about 20 minutes to assemble the chair!\u003c\/span\u003e\u003c\/p\u003e\n\u003cp\u003e\u003cspan style=\"color: #000000;\"\u003eIf you run into any issues during the assembly, please do not hesitate to drop us an email at\u003c\/span\u003e \u003cspan style=\"color: #000000;\"\u003e\u003ca href=\"mailto:support@killabee-gaming.com\" style=\"color: #000000;\"\u003esupport@killabee-gaming.com\u003c\/a\u003e\u003c\/span\u003e \u003cspan style=\"color: #000000;\"\u003eand our support team will do their best to help you.\u003c\/span\u003e\u003c\/p\u003e\n\u003ch4\u003eHow Do I Take Care Of My KILLABEE Gaming Chair?\u003c\/h4\u003e\n\u003cp\u003e\u003cspan style=\"color: #000000;\"\u003eWe have prepared an aftercare guide for our customers. View the \u003cstrong\u003e\u003ca href=\"https:\/\/www.killabee-gaming.com\/pages\/aftercare-guide\" title=\"aftercare-guide-killabee-gaming-chair\" target=\"_blank\"\u003eAFTERCARE\u003c\/a\u003e\u003c\/strong\u003e page.\u003c\/span\u003e\u003c\/p\u003e\n\u003ch4\u003eHow Long Is The Warranty Valid And What Does It Cover\u003c\/h4\u003e\n\u003cp\u003e\u003cspan style=\"color: #000000;\"\u003ePlease refer to the \u003cstrong\u003e\u003ca href=\"https:\/\/www.killabee-gaming.com\/pages\/warranty-policy\" title=\"warranty-policy-killabee-gaming-chair\" target=\"_blank\"\u003eWARRANTY POLICY\u003c\/a\u003e\u003c\/strong\u003e page.\u003c\/span\u003e\u003c\/p\u003e","published_at":"2020-10-19T23:05:11-07:00","created_at":"2020-10-19T19:31:53-07:00","vendor":"KILLABEE Gaming Chair","type":"Killabee","tags":["250 lbs","9015","killabee","linkage","pink color"],"price":16999,"price_min":16999,"price_max":16999,"available":false,"price_varies":false,"compare_at_price":16999,"compare_at_price_min":16999,"compare_at_price_max":16999,"compare_at_price_varies":false,"variants":[{"id":37156911546549,"title":"USA","option1":"USA","option2":null,"option3":null,"sku":"KB-9015-Pink-US","requires_shipping":true,"taxable":false,"featured_image":{"id":29518653391029,"product_id":5970240340149,"position":12,"created_at":"2021-04-19T16:06:17-07:00","updated_at":"2021-04-20T09:12:54-07:00","alt":null,"width":1200,"height":1200,"src":"https:\/\/cdn.shopify.com\/s\/files\/1\/2737\/7264\/products\/KB-9015-pk-us.jpg?v=1618935174","variant_ids":[37156911546549]},"available":false,"name":"KILLABEE Massage Gaming Chair 9015 Pink - USA","public_title":"USA","options":["USA"],"price":16999,"weight":22453,"compare_at_price":16999,"inventory_management":"shopify","barcode":"739515716471","featured_media":{"alt":null,"id":21771382849717,"position":12,"preview_image":{"aspect_ratio":1.0,"height":1200,"width":1200,"src":"https:\/\/cdn.shopify.com\/s\/files\/1\/2737\/7264\/products\/KB-9015-pk-us.jpg?v=1618935174"}}},{"id":37156911579317,"title":"CANADA","option1":"CANADA","option2":null,"option3":null,"sku":"KB-9015-Pink-CA","requires_shipping":true,"taxable":false,"featured_image":{"id":29518653128885,"product_id":5970240340149,"position":13,"created_at":"2021-04-19T16:06:16-07:00","updated_at":"2021-04-20T09:12:55-07:00","alt":null,"width":1200,"height":1200,"src":"https:\/\/cdn.shopify.com\/s\/files\/1\/2737\/7264\/products\/KB-9015-pk-ca.jpg?v=1618935175","variant_ids":[37156911579317]},"available":false,"name":"KILLABEE Massage Gaming Chair 9015 Pink - CANADA","public_title":"CANADA","options":["CANADA"],"price":16999,"weight":22453,"compare_at_price":16999,"inventory_management":"shopify","barcode":"739515716471","featured_media":{"alt":null,"id":21771382784181,"position":13,"preview_image":{"aspect_ratio":1.0,"height":1200,"width":1200,"src":"https:\/\/cdn.shopify.com\/s\/files\/1\/2737\/7264\/products\/KB-9015-pk-ca.jpg?v=1618935175"}}},{"id":39808349175989,"title":"EUROPEAN UNION","option1":"EUROPEAN UNION","option2":null,"option3":null,"sku":"KB-9015-Pink-CA","requires_shipping":true,"taxable":false,"featured_image":{"id":29518653096117,"product_id":5970240340149,"position":14,"created_at":"2021-04-19T16:06:16-07:00","updated_at":"2021-04-20T09:12:54-07:00","alt":null,"width":1200,"height":1200,"src":"https:\/\/cdn.shopify.com\/s\/files\/1\/2737\/7264\/products\/KB-9015-pk-eu.jpg?v=1618935174","variant_ids":[39808349175989]},"available":false,"name":"KILLABEE Massage Gaming Chair 9015 Pink - EUROPEAN UNION","public_title":"EUROPEAN UNION","options":["EUROPEAN UNION"],"price":16999,"weight":22453,"compare_at_price":16999,"inventory_management":"shopify","barcode":"739515716471","featured_media":{"alt":null,"id":21771382816949,"position":14,"preview_image":{"aspect_ratio":1.0,"height":1200,"width":1200,"src":"https:\/\/cdn.shopify.com\/s\/files\/1\/2737\/7264\/products\/KB-9015-pk-eu.jpg?v=1618935174"}}}],"images":["\/\/cdn.shopify.com\/s\/files\/1\/2737\/7264\/products\/KILLABEEPINKGAMINGCHAIRWITHFOOTRESTANDMASSAGELUMBARSUPPOT9015SERIES_4.jpg?v=1618935840","\/\/cdn.shopify.com\/s\/files\/1\/2737\/7264\/products\/KILLABEEPINKCOMPUTERGAMINGCHAIRWITHFOOTRESTANDMASSAGELUMABRSUPPORT9015SERIES_4.jpg?v=1618935843","\/\/cdn.shopify.com\/s\/files\/1\/2737\/7264\/products\/KILLABEEPINKCOMPUTERGAMINGCHAIRWITHFOOTRESTANDMASSAGELUMABRSUPPORT9015SERIES_5.jpg?v=1618935548","\/\/cdn.shopify.com\/s\/files\/1\/2737\/7264\/products\/KILLABEEPINKGAMINGCHAIRWITHFOOTRESTANDMASSAGELUMBARSUPPOT9015SERIES_3.jpg?v=1618935546","\/\/cdn.shopify.com\/s\/files\/1\/2737\/7264\/products\/KILLABEEPINKGAMINGCHAIRWITHFOOTRESTANDMASSAGELUMBARSUPPOT9015SERIES_1.jpg?v=1618935546","\/\/cdn.shopify.com\/s\/files\/1\/2737\/7264\/products\/KILLABEEPINKGAMINGCHAIRWITHFOOTRESTANDMASSAGELUMBARSUPPOT9015SERIES_2.jpg?v=1618935408","\/\/cdn.shopify.com\/s\/files\/1\/2737\/7264\/products\/KILLABEEPINKGAMINGCHAIRWITHFOOTRESTANDMASSAGELUMBARSUPPOT9015SERIES_7.jpg?v=1618935408","\/\/cdn.shopify.com\/s\/files\/1\/2737\/7264\/products\/KILLABEEPINKCOMPUTERGAMINGCHAIRWITHFOOTRESTANDMASSAGELUMABRSUPPORT9015SERIES_6.jpg?v=1618935408","\/\/cdn.shopify.com\/s\/files\/1\/2737\/7264\/products\/KILLABEEPINKCOMPUTERGAMINGCHAIRWITHFOOTRESTANDMASSAGELUMABRSUPPORT9015SERIES_7.jpg?v=1618935295","\/\/cdn.shopify.com\/s\/files\/1\/2737\/7264\/products\/KILLABEEPINKCOMPUTERGAMINGCHAIRWITHFOOTRESTANDMASSAGELUMABRSUPPORT9015SERIES_8.jpg?v=1618935296","\/\/cdn.shopify.com\/s\/files\/1\/2737\/7264\/products\/KILLABEEPINKCOMPUTERGAMINGCHAIRWITHFOOTRESTANDMASSAGELUMABRSUPPORT9015SERIES_9.jpg?v=1618935296","\/\/cdn.shopify.com\/s\/files\/1\/2737\/7264\/products\/KB-9015-pk-us.jpg?v=1618935174","\/\/cdn.shopify.com\/s\/files\/1\/2737\/7264\/products\/KB-9015-pk-ca.jpg?v=1618935175","\/\/cdn.shopify.com\/s\/files\/1\/2737\/7264\/products\/KB-9015-pk-eu.jpg?v=1618935174"],"featured_image":"\/\/cdn.shopify.com\/s\/files\/1\/2737\/7264\/products\/KILLABEEPINKGAMINGCHAIRWITHFOOTRESTANDMASSAGELUMBARSUPPOT9015SERIES_4.jpg?v=1618935840","options":["SHIPPING TO"],"media":[{"alt":null,"id":15078678626485,"position":1,"preview_image":{"aspect_ratio":1.0,"height":1600,"width":1600,"src":"https:\/\/cdn.shopify.com\/s\/files\/1\/2737\/7264\/products\/KILLABEEPINKGAMINGCHAIRWITHFOOTRESTANDMASSAGELUMBARSUPPOT9015SERIES_4.jpg?v=1618935840"},"aspect_ratio":1.0,"height":1600,"media_type":"image","src":"https:\/\/cdn.shopify.com\/s\/files\/1\/2737\/7264\/products\/KILLABEEPINKGAMINGCHAIRWITHFOOTRESTANDMASSAGELUMBARSUPPOT9015SERIES_4.jpg?v=1618935840","width":1600},{"alt":null,"id":15741959438517,"position":2,"preview_image":{"aspect_ratio":1.0,"height":1600,"width":1600,"src":"https:\/\/cdn.shopify.com\/s\/files\/1\/2737\/7264\/products\/KILLABEEPINKCOMPUTERGAMINGCHAIRWITHFOOTRESTANDMASSAGELUMABRSUPPORT9015SERIES_4.jpg?v=1618935843"},"aspect_ratio":1.0,"height":1600,"media_type":"image","src":"https:\/\/cdn.shopify.com\/s\/files\/1\/2737\/7264\/products\/KILLABEEPINKCOMPUTERGAMINGCHAIRWITHFOOTRESTANDMASSAGELUMABRSUPPORT9015SERIES_4.jpg?v=1618935843","width":1600},{"alt":null,"id":15741959471285,"position":3,"preview_image":{"aspect_ratio":1.0,"height":1600,"width":1600,"src":"https:\/\/cdn.shopify.com\/s\/files\/1\/2737\/7264\/products\/KILLABEEPINKCOMPUTERGAMINGCHAIRWITHFOOTRESTANDMASSAGELUMABRSUPPORT9015SERIES_5.jpg?v=1618935548"},"aspect_ratio":1.0,"height":1600,"media_type":"image","src":"https:\/\/cdn.shopify.com\/s\/files\/1\/2737\/7264\/products\/KILLABEEPINKCOMPUTERGAMINGCHAIRWITHFOOTRESTANDMASSAGELUMABRSUPPORT9015SERIES_5.jpg?v=1618935548","width":1600},{"alt":null,"id":15078678593717,"position":4,"preview_image":{"aspect_ratio":1.0,"height":1600,"width":1600,"src":"https:\/\/cdn.shopify.com\/s\/files\/1\/2737\/7264\/products\/KILLABEEPINKGAMINGCHAIRWITHFOOTRESTANDMASSAGELUMBARSUPPOT9015SERIES_3.jpg?v=1618935546"},"aspect_ratio":1.0,"height":1600,"media_type":"image","src":"https:\/\/cdn.shopify.com\/s\/files\/1\/2737\/7264\/products\/KILLABEEPINKGAMINGCHAIRWITHFOOTRESTANDMASSAGELUMBARSUPPOT9015SERIES_3.jpg?v=1618935546","width":1600},{"alt":null,"id":15078678528181,"position":5,"preview_image":{"aspect_ratio":1.0,"height":1600,"width":1600,"src":"https:\/\/cdn.shopify.com\/s\/files\/1\/2737\/7264\/products\/KILLABEEPINKGAMINGCHAIRWITHFOOTRESTANDMASSAGELUMBARSUPPOT9015SERIES_1.jpg?v=1618935546"},"aspect_ratio":1.0,"height":1600,"media_type":"image","src":"https:\/\/cdn.shopify.com\/s\/files\/1\/2737\/7264\/products\/KILLABEEPINKGAMINGCHAIRWITHFOOTRESTANDMASSAGELUMBARSUPPOT9015SERIES_1.jpg?v=1618935546","width":1600},{"alt":null,"id":15078678560949,"position":6,"preview_image":{"aspect_ratio":1.0,"height":1600,"width":1600,"src":"https:\/\/cdn.shopify.com\/s\/files\/1\/2737\/7264\/products\/KILLABEEPINKGAMINGCHAIRWITHFOOTRESTANDMASSAGELUMBARSUPPOT9015SERIES_2.jpg?v=1618935408"},"aspect_ratio":1.0,"height":1600,"media_type":"image","src":"https:\/\/cdn.shopify.com\/s\/files\/1\/2737\/7264\/products\/KILLABEEPINKGAMINGCHAIRWITHFOOTRESTANDMASSAGELUMBARSUPPOT9015SERIES_2.jpg?v=1618935408","width":1600},{"alt":null,"id":15078678659253,"position":7,"preview_image":{"aspect_ratio":1.0,"height":1600,"width":1600,"src":"https:\/\/cdn.shopify.com\/s\/files\/1\/2737\/7264\/products\/KILLABEEPINKGAMINGCHAIRWITHFOOTRESTANDMASSAGELUMBARSUPPOT9015SERIES_7.jpg?v=1618935408"},"aspect_ratio":1.0,"height":1600,"media_type":"image","src":"https:\/\/cdn.shopify.com\/s\/files\/1\/2737\/7264\/products\/KILLABEEPINKGAMINGCHAIRWITHFOOTRESTANDMASSAGELUMBARSUPPOT9015SERIES_7.jpg?v=1618935408","width":1600},{"alt":null,"id":15741959504053,"position":8,"preview_image":{"aspect_ratio":1.0,"height":1500,"width":1500,"src":"https:\/\/cdn.shopify.com\/s\/files\/1\/2737\/7264\/products\/KILLABEEPINKCOMPUTERGAMINGCHAIRWITHFOOTRESTANDMASSAGELUMABRSUPPORT9015SERIES_6.jpg?v=1618935408"},"aspect_ratio":1.0,"height":1500,"media_type":"image","src":"https:\/\/cdn.shopify.com\/s\/files\/1\/2737\/7264\/products\/KILLABEEPINKCOMPUTERGAMINGCHAIRWITHFOOTRESTANDMASSAGELUMABRSUPPORT9015SERIES_6.jpg?v=1618935408","width":1500},{"alt":null,"id":15741959536821,"position":9,"preview_image":{"aspect_ratio":1.0,"height":1500,"width":1500,"src":"https:\/\/cdn.shopify.com\/s\/files\/1\/2737\/7264\/products\/KILLABEEPINKCOMPUTERGAMINGCHAIRWITHFOOTRESTANDMASSAGELUMABRSUPPORT9015SERIES_7.jpg?v=1618935295"},"aspect_ratio":1.0,"height":1500,"media_type":"image","src":"https:\/\/cdn.shopify.com\/s\/files\/1\/2737\/7264\/products\/KILLABEEPINKCOMPUTERGAMINGCHAIRWITHFOOTRESTANDMASSAGELUMABRSUPPORT9015SERIES_7.jpg?v=1618935295","width":1500},{"alt":null,"id":15741959569589,"position":10,"preview_image":{"aspect_ratio":1.0,"height":1500,"width":1500,"src":"https:\/\/cdn.shopify.com\/s\/files\/1\/2737\/7264\/products\/KILLABEEPINKCOMPUTERGAMINGCHAIRWITHFOOTRESTANDMASSAGELUMABRSUPPORT9015SERIES_8.jpg?v=1618935296"},"aspect_ratio":1.0,"height":1500,"media_type":"image","src":"https:\/\/cdn.shopify.com\/s\/files\/1\/2737\/7264\/products\/KILLABEEPINKCOMPUTERGAMINGCHAIRWITHFOOTRESTANDMASSAGELUMABRSUPPORT9015SERIES_8.jpg?v=1618935296","width":1500},{"alt":null,"id":15741959602357,"position":11,"preview_image":{"aspect_ratio":1.0,"height":1500,"width":1500,"src":"https:\/\/cdn.shopify.com\/s\/files\/1\/2737\/7264\/products\/KILLABEEPINKCOMPUTERGAMINGCHAIRWITHFOOTRESTANDMASSAGELUMABRSUPPORT9015SERIES_9.jpg?v=1618935296"},"aspect_ratio":1.0,"height":1500,"media_type":"image","src":"https:\/\/cdn.shopify.com\/s\/files\/1\/2737\/7264\/products\/KILLABEEPINKCOMPUTERGAMINGCHAIRWITHFOOTRESTANDMASSAGELUMABRSUPPORT9015SERIES_9.jpg?v=1618935296","width":1500},{"alt":null,"id":21771382849717,"position":12,"preview_image":{"aspect_ratio":1.0,"height":1200,"width":1200,"src":"https:\/\/cdn.shopify.com\/s\/files\/1\/2737\/7264\/products\/KB-9015-pk-us.jpg?v=1618935174"},"aspect_ratio":1.0,"height":1200,"media_type":"image","src":"https:\/\/cdn.shopify.com\/s\/files\/1\/2737\/7264\/products\/KB-9015-pk-us.jpg?v=1618935174","width":1200},{"alt":null,"id":21771382784181,"position":13,"preview_image":{"aspect_ratio":1.0,"height":1200,"width":1200,"src":"https:\/\/cdn.shopify.com\/s\/files\/1\/2737\/7264\/products\/KB-9015-pk-ca.jpg?v=1618935175"},"aspect_ratio":1.0,"height":1200,"media_type":"image","src":"https:\/\/cdn.shopify.com\/s\/files\/1\/2737\/7264\/products\/KB-9015-pk-ca.jpg?v=1618935175","width":1200},{"alt":null,"id":21771382816949,"position":14,"preview_image":{"aspect_ratio":1.0,"height":1200,"width":1200,"src":"https:\/\/cdn.shopify.com\/s\/files\/1\/2737\/7264\/products\/KB-9015-pk-eu.jpg?v=1618935174"},"aspect_ratio":1.0,"height":1200,"media_type":"image","src":"https:\/\/cdn.shopify.com\/s\/files\/1\/2737\/7264\/products\/KB-9015-pk-eu.jpg?v=1618935174","width":1200}],"content":"\u003cp\u003e\u003cspan style=\"color: #000000;\"\u003eKILLABEE 9015 series pink and white computer gaming chair with footrest and massage support. It is designed for girl gamers with superior functional comfort as it features a multitude of adjusting systems and comfy seating, allowing you to sit both ergonomically and comfortably even in long periods of a game session or working. The massaging function activates in the lumbar cushion assist to reduce or bump off the discomfort. Padded armrests offer considerable support to the upper torso, neck, and shoulders which helps relieve fatigue and reduces the stress on shoulder and neck muscles.\u003c\/span\u003e\u003c\/p\u003e\n\u003chr\u003e\n\u003cdiv\u003e\u003cspan style=\"color: #38761d;\"\u003e\u003ci class=\"fa fa-check-circle\"\u003e\u003c\/i\u003e Adjustable Massage Lumbar Pillow\u003c\/span\u003e\u003c\/div\u003e\n\u003cdiv\u003e\u003cspan style=\"color: #38761d;\"\u003e\u003ci class=\"fa fa-check-circle\"\u003e\u003c\/i\u003e 160 Degree Reclining Control with infinite angle lock.\u003c\/span\u003e\u003c\/div\u003e\n\u003cdiv\u003e\u003cspan style=\"color: #38761d;\"\u003e\u003ci class=\"fa fa-check-circle\"\u003e\u003c\/i\u003e Extendable Padded Footrest\u003c\/span\u003e\u003c\/div\u003e\n\u003cdiv\u003e\u003cspan style=\"color: #38761d;\"\u003e\u003ci class=\"fa fa-check-circle\"\u003e\u003c\/i\u003e Nylon Base with Smooth-rolling Castors\u003c\/span\u003e\u003c\/div\u003e\n\u003cdiv\u003e\u003cspan style=\"color: #38761d;\"\u003e\u003ci class=\"fa fa-check-circle\"\u003e\u003c\/i\u003e Soft Flat Seat Cushion\u003c\/span\u003e\u003c\/div\u003e\n\u003cdiv\u003e\u003cspan style=\"color: #38761d;\"\u003e\u003ci class=\"fa fa-check-circle\"\u003e\u003c\/i\u003e Recommended Height: 5'6\" - 5'9\" \/ 167-175cm\u003c\/span\u003e\u003c\/div\u003e\n\u003cdiv\u003e\u003cspan style=\"color: #38761d;\"\u003e\u003ci class=\"fa fa-check-circle\"\u003e\u003c\/i\u003e Weight Capacity: 250lbs \/ 113kg\u003c\/span\u003e\u003c\/div\u003e\n[TABS]\n\u003ch5\u003e\u003cspan style=\"color: #000000;\"\u003eFEATURES\u003c\/span\u003e\u003c\/h5\u003e\n\u003cdiv style=\"text-align: center;\"\u003e\u003cimg src=\"https:\/\/cdn.shopifycdn.net\/s\/files\/1\/2737\/7264\/files\/KILLABEE_PINK_COMPUTER_GAMING_CHAIR_WITH_FOOTREST_AND_MASSAGE_LUMABR_SUPPORT_9015_SERIES_2.jpg?v=1607567522\" alt=\"\"\u003e\u003c\/div\u003e\n\u003cp\u003e\u003cspan style=\"color: #000000;\"\u003eThe KILLABEE 9015 Series racing style gaming chair capable of providing support and comfort for any user. Thanks to its multiple adjusting features, anyone can adjust it according to their figure, activity, and needs.\u003c\/span\u003e\u003c\/p\u003e\n\u003cp\u003e\u003cspan style=\"color: #000000;\"\u003eAvailable in Gray \u0026amp; Black, Black, Red \u0026amp; Black, Blue \u0026amp; Black, \u003cstrong\u003ewe release the Pink \u0026amp; White KILLABEE 9015 series gaming chair in fall 2020.\u003c\/strong\u003e\u003c\/span\u003e\u003c\/p\u003e\n\u003cp\u003e\u003cspan style=\"color: #000000;\"\u003eLet's see what makes the KILLABEE 9015 one of the best value for money on the market of ergonomic gaming chairs.\u003c\/span\u003e\u003c\/p\u003e\n\u003cp\u003e\u003cspan style=\"color: #000000;\"\u003e\u003cstrong\u003eDesign\u003c\/strong\u003e\u003c\/span\u003e\u003c\/p\u003e\n\u003cp\u003e\u003cspan style=\"color: #000000;\"\u003eThe KILLABEE 9015 is an elegant racing style gaming chair. It features mainly black upholstery with a colored finish available in red, blue, gray, or black. The NEW 9015 pink and white gaming chair comes out this fall. The style is suitable for gaming rooms or contemporary designed offices. \u003c\/span\u003e\u003c\/p\u003e\n\u003ch4\u003e\u003cspan style=\"color: #000000;\"\u003eSeat Cushion\u003c\/span\u003e\u003c\/h4\u003e\n\u003cp\u003e\u003cspan style=\"color: #000000;\"\u003eThis chair features a wide seat cushion (21.3'' x 20.1'' x 4.7'') that provides room enough for a comfortable sitting position. Made from a high-density sponge, the cushion is highly resistant and able of providing strong and durable support while also being soft and extremely comfortable.\u003c\/span\u003e\u003c\/p\u003e\n\u003ch4\u003e\u003cspan style=\"color: #000000;\"\u003eBackrest\u003c\/span\u003e\u003c\/h4\u003e\n\u003cp\u003e\u003cspan style=\"color: #000000;\"\u003eThe KILLABEE 9015 features an ergonomic 31.9'' backrest that provides support for the entire length of the back (from low back up to the neck).\u003c\/span\u003e\u003cbr\u003e\u003cspan style=\"color: #000000;\"\u003eThe backrest is also reclinable up to 160° so that the chair can be suitable for multiple activities. You can leave the backrest straight, at 90°, to work at your desk for hours while receiving proper support; you can slightly incline it to read or consult data on a tablet in a more comfortable position; and you can fully recline it and rest for as much as you want, while also resting your feet on the footrest.\u003c\/span\u003e\u003c\/p\u003e\n\u003ch4\u003e\u003cspan style=\"color: #000000;\"\u003eFootrest\u003c\/span\u003e\u003c\/h4\u003e\n\u003cp\u003e\u003cspan style=\"color: #000000;\"\u003eThe retractable footrest is ideal for a chair with a reclinable backrest. It's thanks to it that you can rest on your chair as it was a comfortable armchair. Support is provided during rest just like it's provided during work.\u003c\/span\u003e\u003c\/p\u003e\n\u003ch4\u003e\u003cspan style=\"color: #000000;\"\u003eArmrest\u003c\/span\u003e\u003c\/h4\u003e\n\u003cp\u003e\u003cspan style=\"color: #000000;\"\u003eThe KILLABEE 9015 features padded armrests which are also adjustable. This makes the gaming chair suitable for people of different heights (ideal for people 5'6''-5'-9'' tall) who can adjust the armrest position to their needs and comfort.\u003c\/span\u003e\u003c\/p\u003e\n\u003ch4\u003e\u003cspan style=\"color: #000000;\"\u003eLumbar Support\u003c\/span\u003e\u003c\/h4\u003e\n\u003cp\u003e\u003cspan style=\"color: #000000;\"\u003eThe KILLABEE 9015 is provided with a massage lumbar cushion. Other than being able to give you the pleasure of a massage, a lumbar cushion is extremely important for maintaining a proper posture while sitting. Especially if you sit for many hours during the day, you need your spine to maintain its natural position and curves. This is only possible with a lumbar cushion.\u003c\/span\u003e\u003c\/p\u003e\n\u003ch4\u003e\u003cspan style=\"color: #000000;\"\u003eSmoothly Castor\u003c\/span\u003e\u003c\/h4\u003e\n\u003cp\u003e\u003cspan style=\"color: #000000;\"\u003eIf you're tired of noisy and stiff castors, with the KILLABEE 9015 you can definitely fix the problem. Its castors are 360° rotating, smooth and silent during shifting.\u003c\/span\u003e\u003c\/p\u003e\n\u003ch2\u003e\u003cspan style=\"color: #000000;\"\u003ePrice and Guarantee Scheme\u003c\/span\u003e\u003c\/h2\u003e\n\u003cp\u003e\u003cspan style=\"color: #000000;\"\u003eYou won't find such a quality gaming chair at such an affordable price anywhere else in the market. Also, the chair comes with a 1-year warranty as insurance of quality and durability.\u003c\/span\u003e\u003c\/p\u003e\n\u003ch5\u003e\u003cspan style=\"color: #000000;\"\u003e\u003cstrong\u003eSPECIFICATIONS\u003c\/strong\u003e\u003c\/span\u003e\u003c\/h5\u003e\n\u003cdiv style=\"text-align: center;\"\u003e\u003cimg src=\"https:\/\/cdn.shopify.com\/s\/files\/1\/2737\/7264\/files\/KILLABEE_PINK_MASSAGE_GAMING_CHAIR_FOR_GIRL_GAMERS_9015_SERIES_1.jpg?v=1606199117\" alt=\"KILLABEE MASSAGE GAMING CHAIR 9015 SERIES PINK GAMING CHAIR FOR GIRL GAMERS\" style=\"float: none;\"\u003e\u003c\/div\u003e\n\u003cul\u003e\n\u003cli\u003e\u003cspan style=\"color: #000000;\"\u003eDimensions: 26'' x 19.3'' (maximum height)\u003c\/span\u003e\u003c\/li\u003e\n\u003cli\u003e\u003cspan style=\"color: #000000;\"\u003eWeight: 49.6 lbs\u003c\/span\u003e\u003c\/li\u003e\n\u003cli\u003e\u003cspan style=\"color: #000000;\"\u003eFrame Construction: Steel\u003c\/span\u003e\u003c\/li\u003e\n\u003cli\u003e\u003cspan style=\"color: #000000;\"\u003eFoam type_ high-density sponge\u003c\/span\u003e\u003c\/li\u003e\n\u003cli\u003e\u003cspan style=\"color: #000000;\"\u003eAdjustable armrest: yes\u003c\/span\u003e\u003c\/li\u003e\n\u003cli\u003e\u003cspan style=\"color: #000000;\"\u003eRetractable footrest: yes\u003c\/span\u003e\u003c\/li\u003e\n\u003cli\u003e\u003cspan style=\"color: #000000;\"\u003eAdjustable height: yes\u003c\/span\u003e\u003c\/li\u003e\n\u003cli\u003e\u003cspan style=\"color: #000000;\"\u003eTilt lock: yes\u003c\/span\u003e\u003c\/li\u003e\n\u003cli\u003e\u003cspan style=\"color: #000000;\"\u003eRecline: up to 175°\u003c\/span\u003e\u003c\/li\u003e\n\u003cli\u003e\u003cspan style=\"color: #000000;\"\u003eMaximum Load: 250 lbs\u003c\/span\u003e\u003c\/li\u003e\n\u003cli\u003e\u003cspan style=\"color: #000000;\"\u003eRecommended Height: 5'6'' - 5'9''\u003c\/span\u003e\u003c\/li\u003e\n\u003c\/ul\u003e\n\u003cdiv style=\"text-align: center;\"\u003e\u003cbr\u003e\u003c\/div\u003e\n\u003chr\u003e\n\u003ch5\u003e\u003cspan style=\"color: #000000;\"\u003eSHIPPING\u003c\/span\u003e\u003c\/h5\u003e\n\u003ch4\u003e5-7 DAYS FREE US SHIPPING.\u003c\/h4\u003e\n\u003cp\u003e\u003cspan style=\"color: #000000;\"\u003eFor more information about shipping, please refer to the \u003cstrong\u003e\u003ca title=\"shipping-policy-killabee-gaming-chair\" href=\"https:\/\/www.killabee-gaming.com\/pages\/shipping-policy\" target=\"_blank\"\u003eSHIPPING POLICY\u003c\/a\u003e\u003c\/strong\u003e page. \u003c\/span\u003e\u003c\/p\u003e\n\u003chr\u003e\n\u003ch4\u003eHow Do I Know If A KILLABEE Gaming Chair Will Be A Good Fit For Me?\u003c\/h4\u003e\n\u003cp\u003e\u003cspan style=\"color: #000000;\"\u003eWe've designed our chairs to be as adjustable as possible, taking into consideration that people have varying weights and height. We do have a recommended using our chair measurement guide base on your height and weight here with our \u003cstrong\u003e\u003ca href=\"https:\/\/www.killabee-gaming.com\/pages\/size-guide\" title=\"killabee-gaming-chair-size-guide\" target=\"_blank\"\u003eSIZE GUIDE\u003c\/a\u003e\u003c\/strong\u003e to get a better idea of which chairs suit you best.\u003c\/span\u003e\u003c\/p\u003e\n\u003cp\u003e\u003cspan style=\"color: #000000;\"\u003eWe also suggest comparing these measurements against your current chair, to give you a better idea of which chair would fit you best.\u003c\/span\u003e\u003c\/p\u003e\n\u003ch4\u003eHow Do I Assemble My KILLABEE Gaming Chair?\u003c\/h4\u003e\n\u003cp\u003e\u003cspan style=\"color: #000000;\"\u003eUpon purchase \u0026amp; fulfillment, you can find the assembly video and assembly guide in the \u003cstrong\u003e\u003ca href=\"https:\/\/www.killabee-gaming.com\/pages\/instruction-manual\" title=\"killabee-gaming-chair-instruction-manual\" target=\"_blank\"\u003eINSTRUCTION MANUAL\u003c\/a\u003e\u003c\/strong\u003e.\u003c\/span\u003e\u003c\/p\u003e\n\u003cp\u003e\u003cspan style=\"color: #000000;\"\u003eThe assembly video and guide will give you a good step-by-step visual walkthrough, as well as some important safety information to keep in mind. So watch it through at least once before starting and you'll find it much easier. An average person takes about 20 minutes to assemble the chair!\u003c\/span\u003e\u003c\/p\u003e\n\u003cp\u003e\u003cspan style=\"color: #000000;\"\u003eIf you run into any issues during the assembly, please do not hesitate to drop us an email at\u003c\/span\u003e \u003cspan style=\"color: #000000;\"\u003e\u003ca href=\"mailto:support@killabee-gaming.com\" style=\"color: #000000;\"\u003esupport@killabee-gaming.com\u003c\/a\u003e\u003c\/span\u003e \u003cspan style=\"color: #000000;\"\u003eand our support team will do their best to help you.\u003c\/span\u003e\u003c\/p\u003e\n\u003ch4\u003eHow Do I Take Care Of My KILLABEE Gaming Chair?\u003c\/h4\u003e\n\u003cp\u003e\u003cspan style=\"color: #000000;\"\u003eWe have prepared an aftercare guide for our customers. View the \u003cstrong\u003e\u003ca href=\"https:\/\/www.killabee-gaming.com\/pages\/aftercare-guide\" title=\"aftercare-guide-killabee-gaming-chair\" target=\"_blank\"\u003eAFTERCARE\u003c\/a\u003e\u003c\/strong\u003e page.\u003c\/span\u003e\u003c\/p\u003e\n\u003ch4\u003eHow Long Is The Warranty Valid And What Does It Cover\u003c\/h4\u003e\n\u003cp\u003e\u003cspan style=\"color: #000000;\"\u003ePlease refer to the \u003cstrong\u003e\u003ca href=\"https:\/\/www.killabee-gaming.com\/pages\/warranty-policy\" title=\"warranty-policy-killabee-gaming-chair\" target=\"_blank\"\u003eWARRANTY POLICY\u003c\/a\u003e\u003c\/strong\u003e page.\u003c\/span\u003e\u003c\/p\u003e"}
KILLABEE Massage Gaming Chair 9015 Pink
KILLABEE Massage Gaming Chair 9015 Pink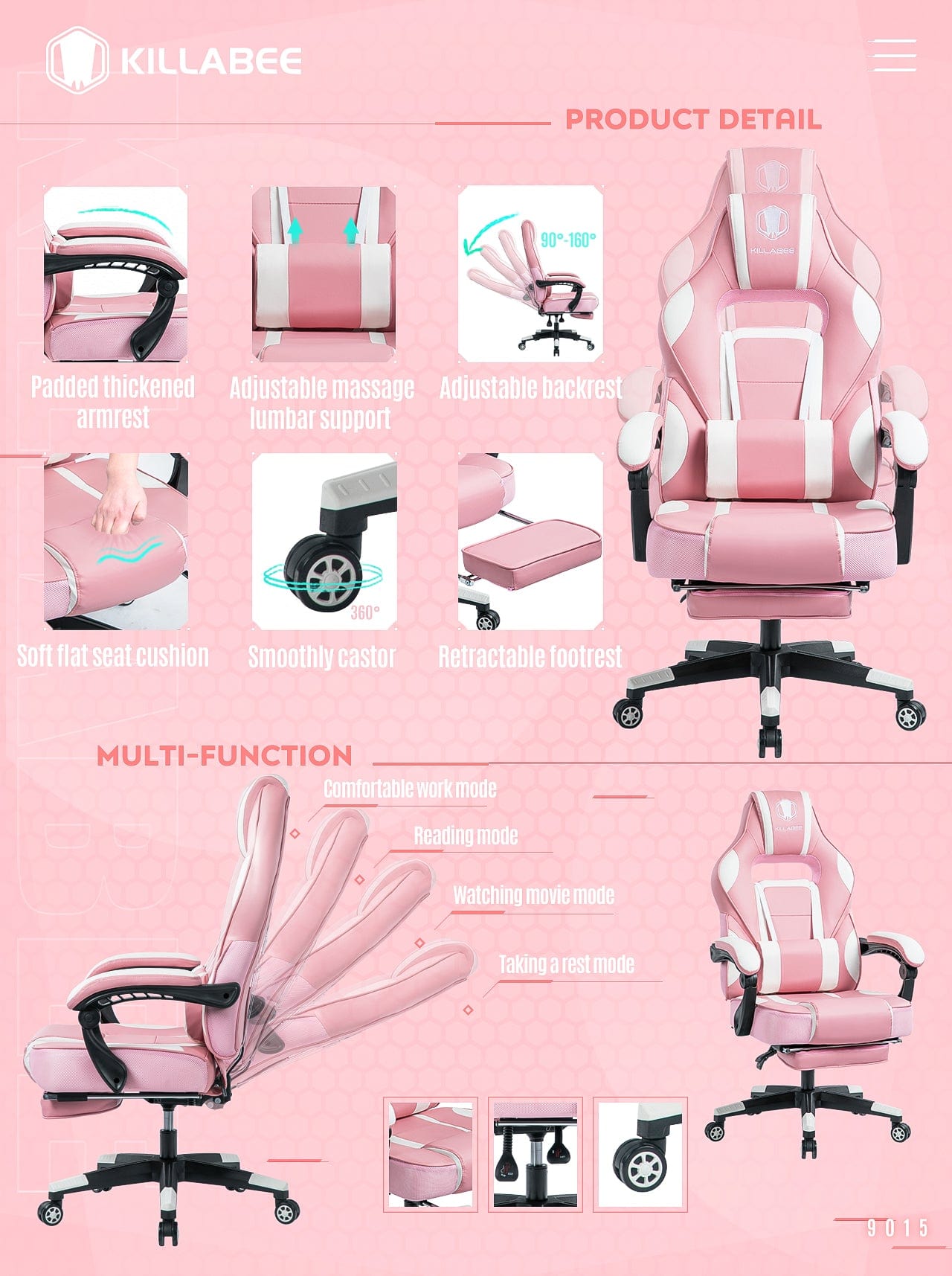 The KILLABEE 9015 Series racing style gaming chair capable of providing support and comfort for any user. Thanks to its multiple adjusting features, anyone can adjust it according to their figure, activity, and needs.
Available in Gray & Black, Black, Red & Black, Blue & Black, we release the Pink & White KILLABEE 9015 series gaming chair in fall 2020.
Let's see what makes the KILLABEE 9015 one of the best value for money on the market of ergonomic gaming chairs.
Design
The KILLABEE 9015 is an elegant racing style gaming chair. It features mainly black upholstery with a colored finish available in red, blue, gray, or black. The NEW 9015 pink and white gaming chair comes out this fall. The style is suitable for gaming rooms or contemporary designed offices. 
Seat Cushion
This chair features a wide seat cushion (21.3'' x 20.1'' x 4.7'') that provides room enough for a comfortable sitting position. Made from a high-density sponge, the cushion is highly resistant and able of providing strong and durable support while also being soft and extremely comfortable.
Backrest
The KILLABEE 9015 features an ergonomic 31.9'' backrest that provides support for the entire length of the back (from low back up to the neck).
The backrest is also reclinable up to 160° so that the chair can be suitable for multiple activities. You can leave the backrest straight, at 90°, to work at your desk for hours while receiving proper support; you can slightly incline it to read or consult data on a tablet in a more comfortable position; and you can fully recline it and rest for as much as you want, while also resting your feet on the footrest.
Footrest
The retractable footrest is ideal for a chair with a reclinable backrest. It's thanks to it that you can rest on your chair as it was a comfortable armchair. Support is provided during rest just like it's provided during work.
Armrest
The KILLABEE 9015 features padded armrests which are also adjustable. This makes the gaming chair suitable for people of different heights (ideal for people 5'6''-5'-9'' tall) who can adjust the armrest position to their needs and comfort.
Lumbar Support
The KILLABEE 9015 is provided with a massage lumbar cushion. Other than being able to give you the pleasure of a massage, a lumbar cushion is extremely important for maintaining a proper posture while sitting. Especially if you sit for many hours during the day, you need your spine to maintain its natural position and curves. This is only possible with a lumbar cushion.
Smoothly Castor
If you're tired of noisy and stiff castors, with the KILLABEE 9015 you can definitely fix the problem. Its castors are 360° rotating, smooth and silent during shifting.
Price and Guarantee Scheme
You won't find such a quality gaming chair at such an affordable price anywhere else in the market. Also, the chair comes with a 1-year warranty as insurance of quality and durability.
Dimensions: 26'' x 19.3'' (maximum height)

Weight: 49.6 lbs

Frame Construction: Steel

Foam type_ high-density sponge

Adjustable armrest: yes

Retractable footrest: yes

Adjustable height: yes

Tilt lock: yes

Recline: up to 175°

Maximum Load: 250 lbs

Recommended Height: 5'6'' - 5'9''
---
5-7 DAYS FREE US SHIPPING.
For more information about shipping, please refer to the SHIPPING POLICY page.
---
How Do I Know If A KILLABEE Gaming Chair Will Be A Good Fit For Me?
We've designed our chairs to be as adjustable as possible, taking into consideration that people have varying weights and height. We do have a recommended using our chair measurement guide base on your height and weight here with our SIZE GUIDE to get a better idea of which chairs suit you best.
We also suggest comparing these measurements against your current chair, to give you a better idea of which chair would fit you best.
How Do I Assemble My KILLABEE Gaming Chair?
Upon purchase & fulfillment, you can find the assembly video and assembly guide in the INSTRUCTION MANUAL.
The assembly video and guide will give you a good step-by-step visual walkthrough, as well as some important safety information to keep in mind. So watch it through at least once before starting and you'll find it much easier. An average person takes about 20 minutes to assemble the chair!
If you run into any issues during the assembly, please do not hesitate to drop us an email at support@killabee-gaming.com and our support team will do their best to help you.
How Do I Take Care Of My KILLABEE Gaming Chair?
We have prepared an aftercare guide for our customers. View the AFTERCARE page.
How Long Is The Warranty Valid And What Does It Cover
Please refer to the WARRANTY POLICY page.